Regular price
$470.00 USD
Regular price
Sale price
$470.00 USD
Unit price
per
Sale
Sold out
sku: RR2017185127
Share
View full details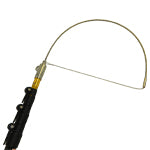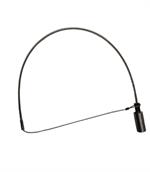 USES AND APPLICATIONS: For "lassoing" objects in the water.
HOW TO USE: This tool attaches to the universal sprung button sleeve. It is a spring loaded design which needs to be reset after each snaring. The target is placed inside the loop and a light tug on the pole will release the snare locking onto the target. This tool is designed to quickly ensnare an inanimate object or when the operator has no co-operation from the target i.e animal control and unconscious human retrieval.
MAINTENANCE & PRECAUTIONS: The sleeve and cable should be kept dry, clean and lightly oiled. If the spring of the cable reduces dramatically, contact the supplier.
Pole Not Included
SPECIFICATIONS
Material: Stainless Steel
Weight: 12.3 oz (350g)
Opening: 46.7" (42cm)