Regular price
$220.00 USD
Regular price
Sale price
$220.00 USD
Unit price
per
Sale
Sold out
sku: RR2017185131
Share
View full details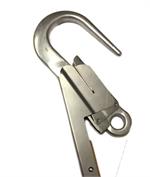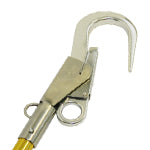 USES AND APPLICATIONS: The Carrago attaches a fixed line and carabiner to a distant eyelet allowing heavy retrieval. Often used in Fall Arrest scenarios and retrieves from water too. To be used safely in conjunction with a davit winch.
HOW TO USE:This tool attaches to the top collar of any of the R&R poles in the same way as all the other fittings and it is used to reach down, across or upwards to any securing point similar to a harness eyelet. A line is initially attached (as seen in the diagram) to the sprung carabiner and once the operator has managed to hook the targets eyelet the pole is then retrieved, the sprung carabiner will lock onto the target eyelet and pull away leaving a secure line for retrieval of the object / person.
MAINTENANCE & PRECAUTIONS:The sleeve fitting should be regular tested on the pole top fitting as damage will render the attachment from securely fitting. Regularly check the carabiner spring retainer.
Pole Not Included
SPECIFICATIONS:
Weight: 2.58 oz (80 gm)
Length: 9.9" (25 cm)
Width: 6.5" (16.5 cm)
Hook Gate Opening: 1.98" (5 cm)
Material: Aluminum / Stainless Steel