Regular price
$2,767.00 USD
Regular price
$2,635.00 USD
Sale price
$2,767.00 USD
Unit price
per
Sale
Sold out
sku: 9460RALS
Share
View full details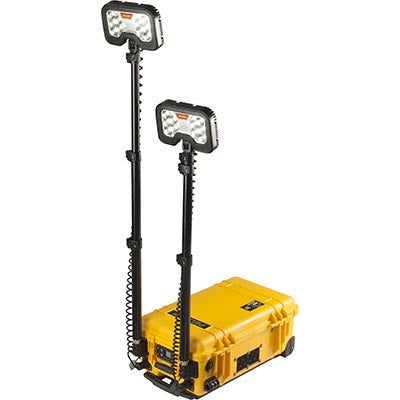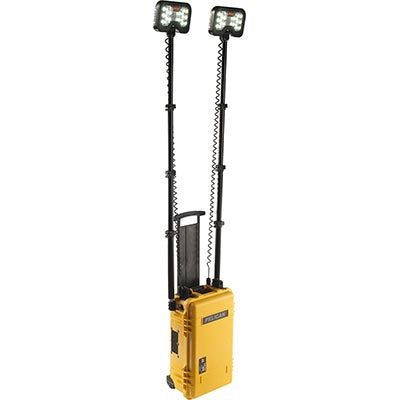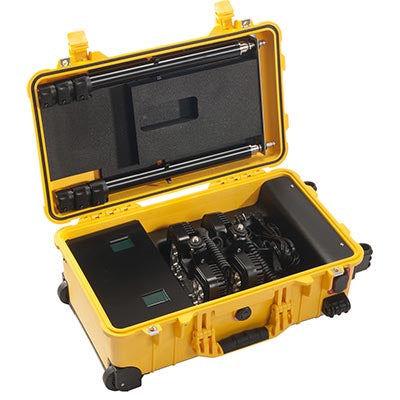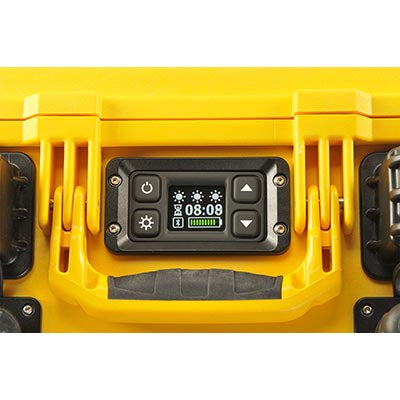 All new and more powerful 9460 Remote Area Lighting System (RALS) provides convenient and ecologically responsible alternatives to wasteful generator powered lights. Engineered with the Intelligent Control System which calculates and displays current battery life. Additionally, it allows the user to regulate the intensity of the light, choose the desired run time or select from three pre-set power levels. Built with versatility in mind, the 9460 RALS features two telescopic masts (each extends to nearly 6 feet) and two 360° articulating light heads. The system's next-generation LEDs combine to radiate up to 12,000 lumens (6,000 per light head). For extended applications, the 9460 can run continuously on wall power. The ability to leave on charge allows you to always be prepared. A 12volt power port including a dual USB adapter provides power for multiple peripheral devices. Built self-contained in a tough-as-nails Pelican case, the 9460 is compact and provides easy ground transport with a retractable pull handle and stainless steel ball-bearing polyurethane wheels.

The remote control allows for activation and deactivation from over 60 feet away. Each unit comes equipped with two remote controls. The multi-terrain trolley allows for easier transport across rough surfaces. The large 1.5-inch polyurethane wheels play a large roll in this benefit. Everyone can benefit from the 12-volt power supply port which can be used to power any electrical product that utilizes a standard 12v vehicle style connector (up to 4 amps), like laptop computers, cell phones, etc.
All other features on the 9460RS are the same as found on the standard 9460 including the dual LED light heads producing 6,000 lumens of light (with telescoping 6-foot poles), Intelligent Control System which calculates and displays current battery life, allowing the user to regulate the intensity of the light and choose the desired run time, a Pelican 1510 protector case that contains and protect all components during travel and storage, a self-contained rechargeable battery and battery charger.
SPECIFICATIONS
LED Type: High Flux LED
LED Life: 50000 hrs.
Tested Lumen Value: 500 (Low) 6000 (High)
Lamp Heads: 2
Number of LEDs: 6 LEDs per head
Beam Spread: 120°
Brightness Settings: Variable
Battery Type: 12v Rechargeable, Sealed
Battery Burn Time: 40 hrs. (Low) 7 hrs. (High)
Battery Charging Time: 6 hrs. from full discharge
Battery Life: 500 cycles
Low Battery Warning: iControl
12V Primary Sockets: 2
12V Auxiliary Sockets: 1
Voltage: 12
Head Length: 6.5"
Head Width: 7.87"
Head Depth: 2.56"
Width Closed: 13.81"
Length Closed: 22"
Height Closed: 9"
Mast Height Extended: 70.87"
Cord Length (Retracted): 13.78"
Weight: 58 lbs.
ADDITIONAL INFORMATION
CE Approval: Approved
CE Certificate Certificate: Yes
RoHS (Restriction of Hazardous Substances) Compliant: Approved