Regular price
Sale price
$29.95 USD
Unit price
per
Sale
Sold out
sku: NL1835LTHP
Share
View full details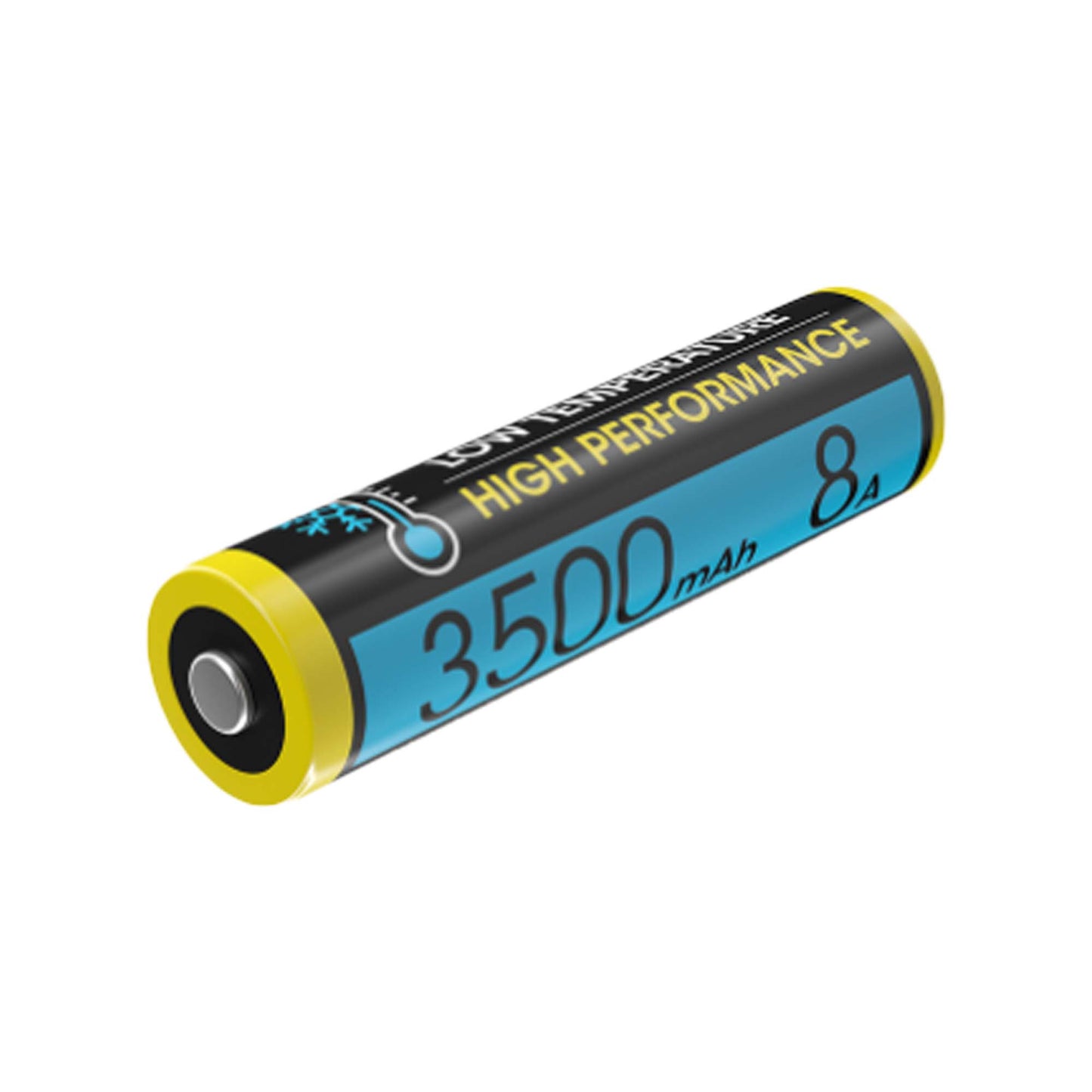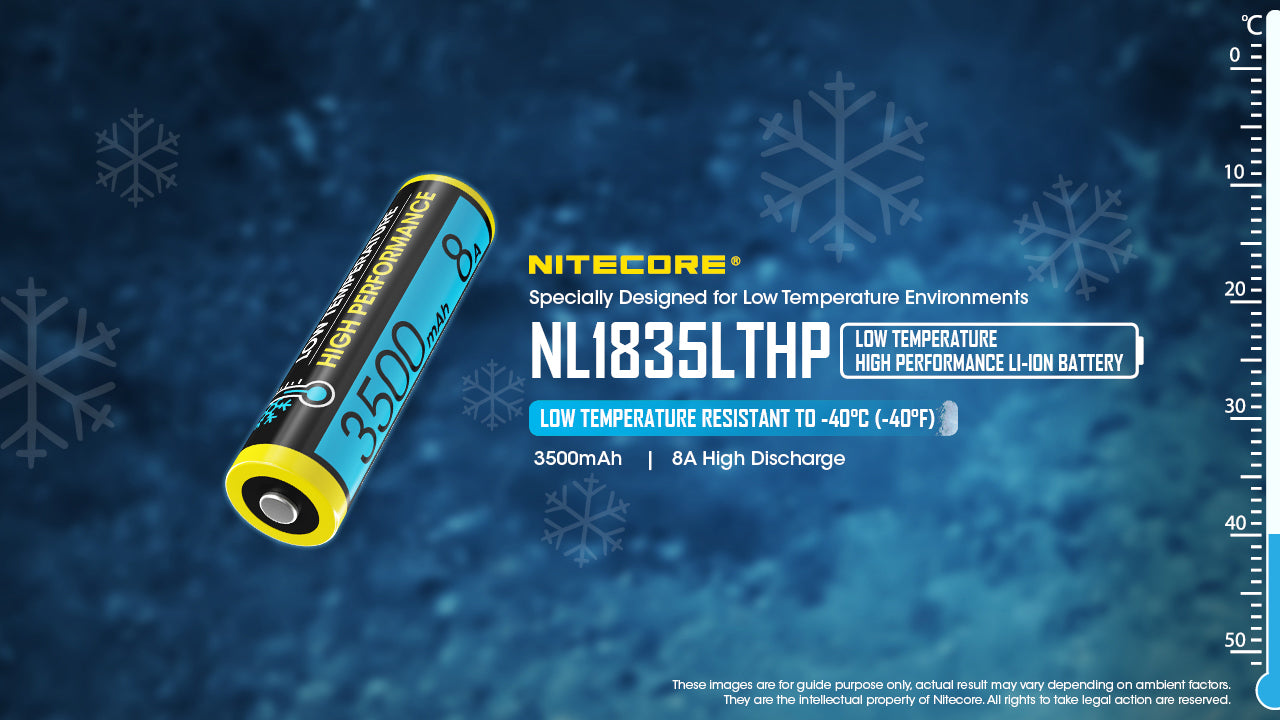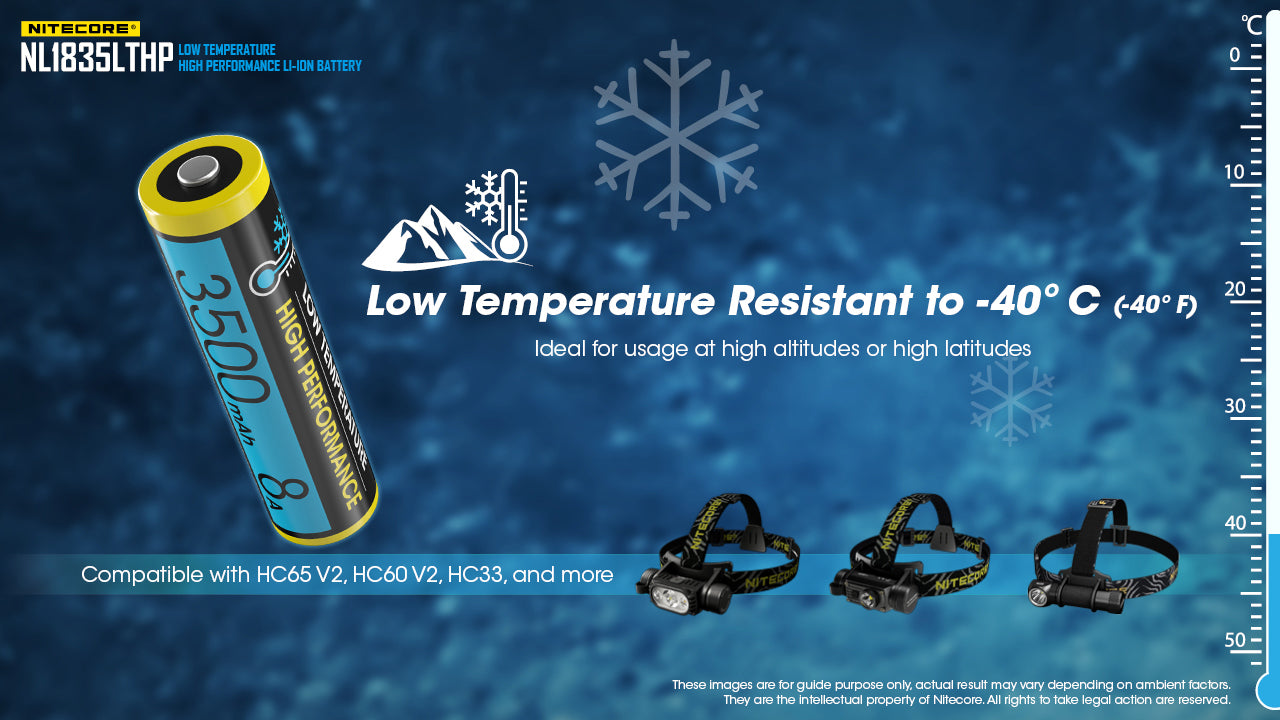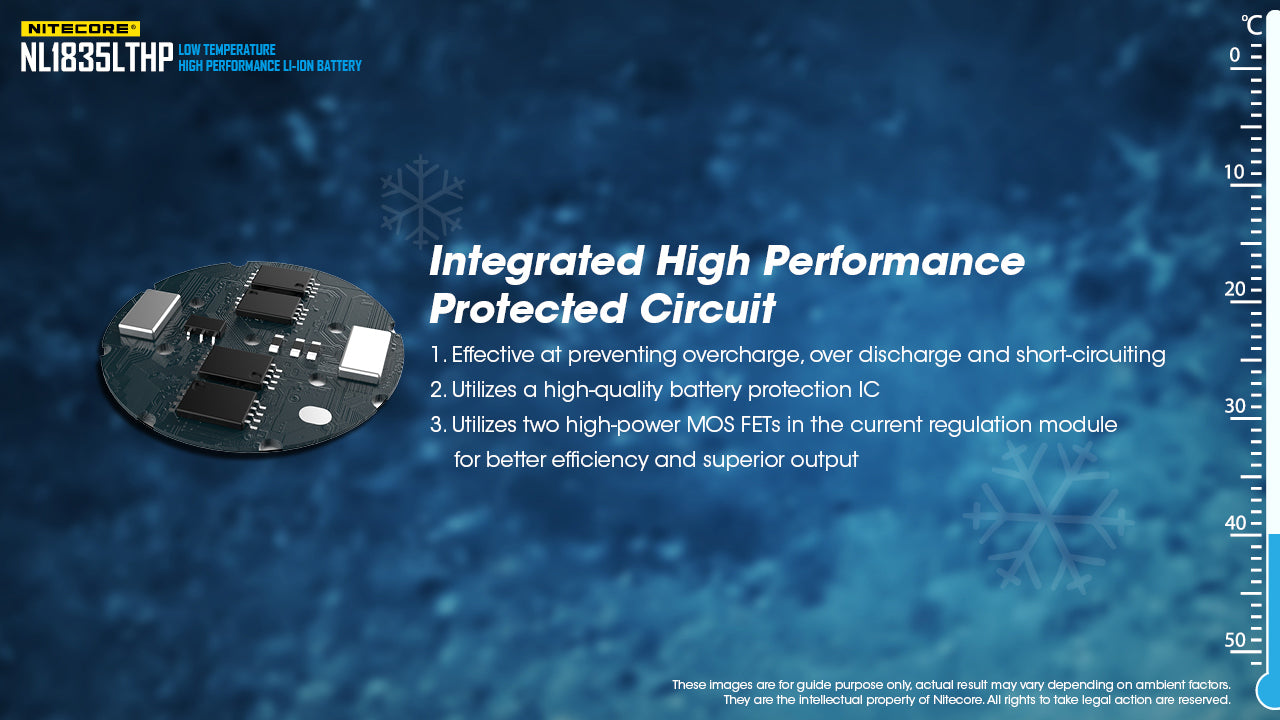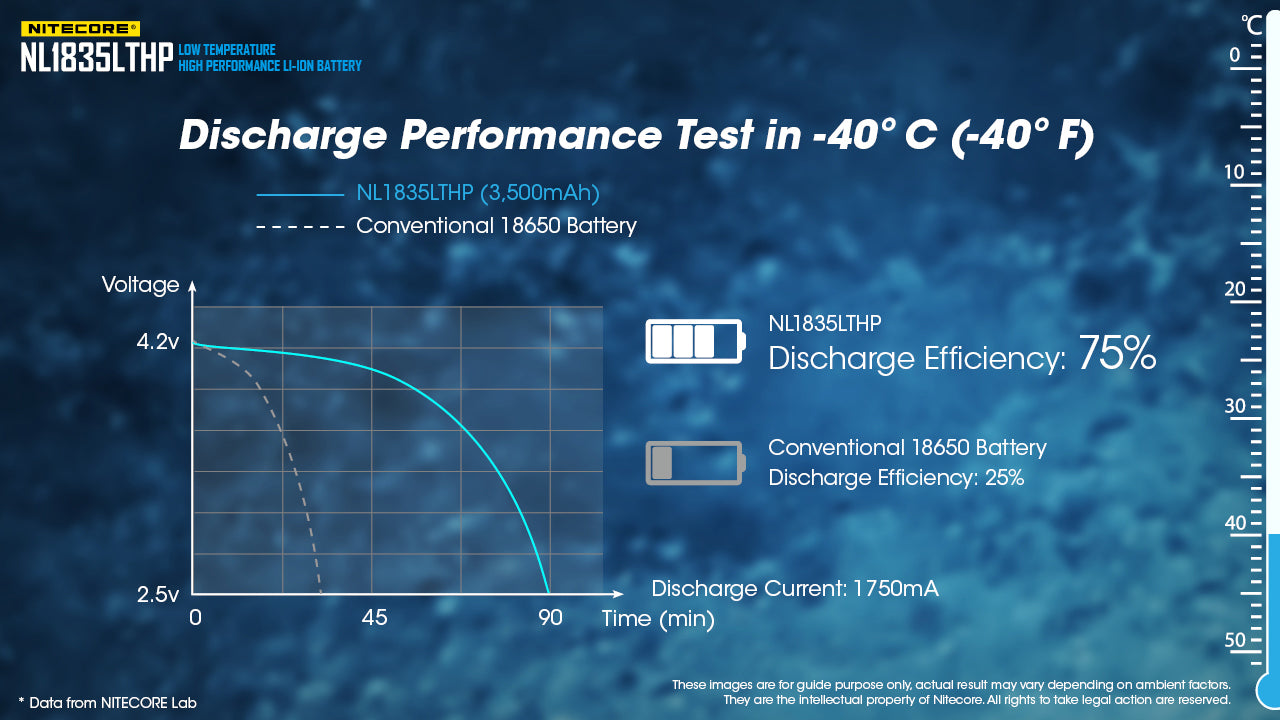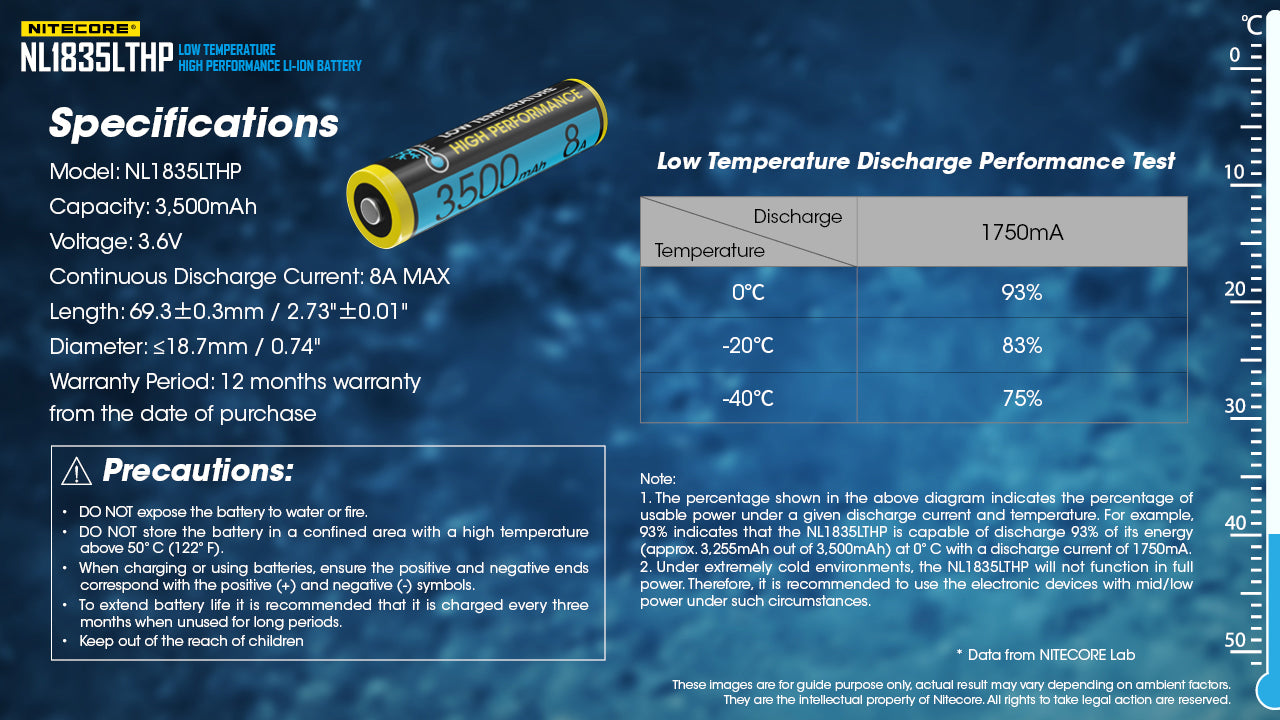 NITECORE NL1835LTHP At-A-Glance
Up to 3X Discharge Efficiency vs Conventional 18650 Battery
8A Max discharge high performance 18650
Microporous barrier for heat dissipation and insolation
Built-in PTC for surge protection
Nickel-plated stainless steel cathode and anode
Tough plastic circuit board protector
Included in the Box
NITECORE NL1835LTHP 18650 Battery
NL1835LTHP Cold Weather 18650 Battery
Made to perform in freezing temperatures, Nitecore NL1835LTHP 18650 battery triples the typical 18650 battery discharge efficiency at -40F, which makes it a great power source for low temperature applications. It comes with a respectable 4200mAh energy storage capacity. An ideal companion for all 18650 compatible devices in cold climate.
>8A Discharge Current
The NL1835LTHP is a high performance battery capable of >8A discharge for high lumen flashlights and headlamps.
Premium Quality Battery
The NITECORE NL1835LTHP comes standard with all of the safety features, quality engineering, and more that has made NITECORE a trusted brand for rechargeable Li-ion batteries. Your expensive electronics are safe paired with an NL1835LTHP , that features a built-in pressure relief valve, high temperature resistant design, and built-in PTC to prevent surges. This protects you from overcharging, over-discharging, as well as short-circuits. The NL1835LTHP is built with premium materials, such as nickel-plated stainless steel connectors for impact resistance, good conductivity, and resistance against oxidation. Safe and reliable, the NL1835LTHP, is globally insured and has earned multiple certifications for electronic use.
Specifications:
Length: 2.73in (69.3mm)
Diameter: 0.74in (18.7mm)
Compatible Chargers
18650 Battery Compatibility
This is a button top battery designed for flashlights that accept standard 18650 batteries.
It does NOT work in any non-flashlight device.
It does NOT work in any flashlights that require a custom battery.
It does NOT work in any electronics that only accept flat top batteries.
It can be charged in a lithium-ion charger such as UI1, UI2, UMS2, UMS4.