Regular price
Sale price
$16.95 USD
Unit price
per
Sale
Sold out
sku: MBP101
Share
View full details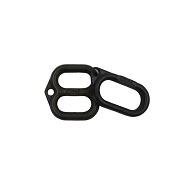 CMI Micro Belay Plates set the standard for efficient rope handling. CMI Micro Belay Plates are hot forged from 7075 aircraft alloy aluminum, a material with nearly double the strength of that used in lesser belay plates. By mating this particular alloy with the forging process, we have been able to build a remarkably lightweight product while still maintaining a substantial safety margin. Nylon rope running over bare aluminum acts as a low grade file, slowly abrading it's way into the aluminum surface and weakening the part. That's why after forging, heat treating, deburring, and polishing, our Micro Belay plates receive our exclusive hard-coat to keep the strength for years to come.
An original CMI innovation, these belay plates bring new meaning to the word micro. Hot forged from 7075-T6 aircraft aluminum and finished with our legendary hardcoat. This compact, lightweight product has a substantial safety margin. Available in double configuration for 9mm ropes or single for 11mm ropes.
MBP101:

 

Rope Diam: 9mm 

 

Size: 1.25"x 9/16 Weight: 0.3oz 

 

MBS: 6,000lbs
MBP102:

 

Rope Diam: 11mm

 

Size: 1.25"x 15/16 Weight: 0.4oz 

 

MBS: 6,000lbs
Important Note: CMI Micro Belay Plates are the lightest and strongest available anywhere. In order to achieve this, cross-sections have been reduced to the bare minimum, leaving little room for further reduction by rope wear. Our exclusive hard-coat will protect the aluminum from rope wear degradation for a long time. However, when the hard-coat is worn through, replace it!