Regular price
Sale price
$35.00 USD
Unit price
per
Sale
Sold out
sku: VVM21BookORVDLR
Share
View full details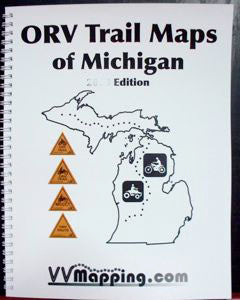 This is the legacy ORV Map Book, each page effectively has one trail loop.
If you only ride the 50" ORV Trail loops or Motorcycle Trail loops, or plan to ride the Michigan Cross Country Cycle Trail, this book will give a little more detail for each trail.
Our MI ORV Guide book covers all of these plus all of the open roads in areas beyond the trail loops. If you are unsure which book to get, most customers are interested in the ORV Guide Book.
Printed map book of Michigan's ORV Trail System.
This includes ALL of Michigan's ORV Trail System, both the upper and lower peninsula, over 3000 miles of trails and routes.
Full color, 8.5" x 11" book. Hand bound and hand crafted. Over 100 pages!
All trails were recorded with GPS.
Maps depict certified county roads, water, state highways, towns, gas stations, parking lots and more.
Distance for each trail is included, each trail segment has distance as well (point A to point B).
GPS coordinates for parking lots or other nearby features.
Integrated Trail Guide describes each trail and nearby features, connecting trails, local ordinances and more!