Regular price
Sale price
$50.00 USD
Unit price
per
Sale
Sold out
sku: VVM18-BigBook-MI-DLR
Share
View full details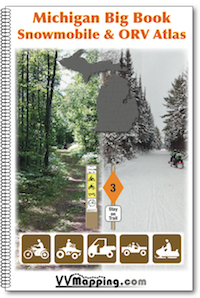 VV Mapping's comprehensive Big Book for Michigan includes full coverage for the entire State. The book is 11" x 17", wire bound and full color.
This book includes all of the Snowmobile Trail Systems and all of the ORV Trail System
This is the single printed reference and planning book for year-round motorized use in Michigan.
Features:
State, County, Local and Forest roads. Highways, County Roads, State Forest Roads and National Forest

 

Roads open to ORVs visually highlighted.
Designated

 

Snowmobile

 

Trail System
Designated ORV System.

 

ORV Trails, ORV Routes, Motorcycle-Only Trails, Michigan Cross Country Cycle Trail.
Public Land. State and National Forest, National Parks, Military Land, Commercial Forest Land, Hunter Access Program Land.
Points of Interest.

 

Gas Stations, Lodging, Campgrounds, Food,

 

Parking Lots, GPS Coordinates, Trail Distances, boating access sites, much more.
Trail Guide. We've ridden every trail and provide an overview of the trail condition and features.
Over 3000 miles of ORV Trails; over 6000 miles of Snowmobile Trails; Over 8000 miles of forest roads.
Current Motor Vehicle Use Map information included for all three National Forests.
Current DNR published State Forest Road map included for upper and lower peninsulas.
Current township and county ordinances for ORVs on county roads.
Commercial Forest Land and Hunter Access Land, non-motorized trails and more.
Each trail has been documented with a GPS unit, the most accurate product available.
Laser printed on heavy paper stock. Not laminated, not waterproof, but is water resistant.
Really like the book only two things that I noticed was it should be laminated and the lettering be bigger