Regular price
Sale price
$60.00 USD
Unit price
per
Sale
Sold out
sku: VVM14GL-SMORV-GPS-DLR
Share
View full details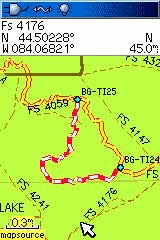 GPS loadable maps of Michigan, Wisconsin, Indiana and Minnesota for your compatible GPS.
Included Maps:
Great Lakes ORV
Great Lakes Snowmobile
All packages include pre-loaded microSD memory card shipped to you and instant online download in the base price. CD, card reader and faster shipping choices are optional. Both the maps and install programs are included on memory card for use in the GPS as well as loading the maps to the computer.
Supports autorouting, providing turn by turn directions, allowing the GPS to provide guidance on what trails to take to reach your destination.
Map includes roads, highways, forest roads, rivers, lakes, towns, points of interest (gas, etc.) as well as the entire Snowmobile and/or ORV Trail Systems.
Includes complete forest road coverage for all of the National Forests in Michigan, Minnesota and Wisconsin, straight from their Motor Vehicle Use Map. National Forests include: Chequamegon-Nicolet, Ottawa, Hiawatha, Superior and Huron-Manistee. Visually identify open/legal roads on National Forest lands.
The ORV Trail Systems has several types of trails and roads available. These maps visually show the different ORV Trail, Motorcycle-Only Trail, Michigan Cross Country Cycle Trail and ORV Routes.
This is a full map product including roads, highways, rivers, lakes, towns and even public land. No other map is needed in your GPS.
See Product page for 
more information
, including last date of update (our maps are updated constantly).
Now you can know where you are on the trail, where the parking lot is, which roads are near by and even which trail intersection is coming up.
Includes two separate maps: "Snowmobile" and "ORV". Both are on the card and can be turned on/off separately within the GPS. Lowrance version provides 2 cards, one for each map.
The "Snowmobile" has the Snowmobile trails shown prominently as thick yellow/orange lines while the ORV trails are shown as dotted lines. The "ORV" has the ORV trails shown prominently in their colors while the Snowmobile trails are shown as dashed lines.
The product is separated like this to reduce clutter and confusion while riding. Load the Snowmobile in the winter for use on your snowmobile, load the ORV in the summer while on your ATV.
Package Includes:
PreLoaded microSD memory card with SD Adaptor.
REQUIRES:
Garmin or Lowrance Mapping GPS Unit
This map includes both Snowmobile and ORV trails (2 MAPS).