Regular price
Sale price
$40.00 USD
Unit price
per
Sale
Sold out
sku: VVM14GL-SNOW-GPS-DLR
Share
View full details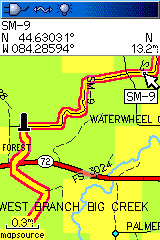 Great Lakes Snowmobile Trail Maps for GPS covering the best winter wonderland riding.
Version 10.3.0 (2/15/21)
Coverage for Michigan, Wisconsin, Indiana and Minnesota

Maps have "routable" trails and roads, allowing the GPS to provide guidance on what trails to take to reach your destination. Covers all of the listed States in 1:24,000 detail. The Snowmobile Trail system is included in it's entirety. Each trail has been documented with a GPS unit, more accurate than any other product we know of.

This is a full map product including roads, highways, rivers, lakes, towns and even public land. No other map is needed in your GPS.

Now you can know where you are on the trail, where the parking lot is, which roads are near by and even which trail intersection is coming up.

This map installer is designed to integrate into an existing copy of Garmin's MapSource or BaseCamp programs.
Also included is SendMap, a program that allows you to load the maps to your GPS without having MapSource installed.

Includes all of the forest roads within the National Forests direct from their recently released Motor Vehicle Use Maps.

Instant download of map installer after purchase is included in price.

Package Includes:
microSD memory card with SD Adaptor, maps and install programs on card
Printed Instructions for installing maps to the computer and GPS

REQUIRES:
Garmin or Lowrance Mapping GPS Unit

Please note we release multiple updates throughout the season to keep you as current as possible, we do not issue just one "calendar year" update.

This map does include ORV trails.