Regular price
Sale price
$98.95 USD
Unit price
per
Sale
Sold out
sku: DS-135
Share
View full details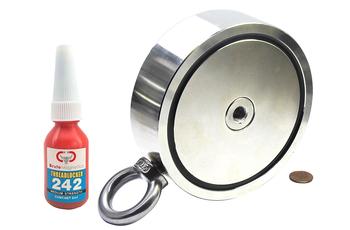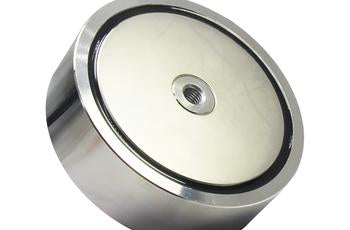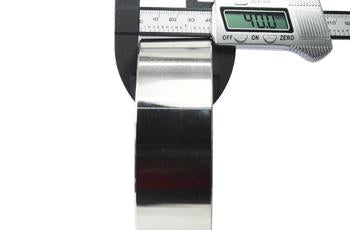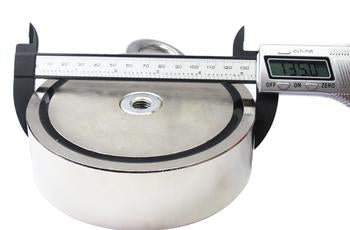 Our largest and strongest magnet, this thing is a beast! This magnet was specifically designed with heavy retrieving applications in mind.  You won't have to worry which way the magnet is oriented under water since each side provides up to 1,800+lbs of pulling force.  The new design provides more versatility by allowing it to be used as a double sided, or single sided magnet. The eyebolt can screw into the side of the casing, or through the magnet face. Using this magnet in the single sided configuration will provide a much stronger hold since the user is pulling perpendicular to the target.
Includes two M12 threaded eyelets.  This magnet is made with A3 steel plate and coated with Nickel-Copper-Nickel to be the strongest and most durable type of permanent magnet available.
Please note that holding power of 3,600 lbs is a combined maximum weight between the two magnets.  Each side will produce around 1,800 lbs of pulling force.
Includes 6ml bottle of thread locker to keep the eyebolt from backing out.
Specifications:
SKU: DS-135
Dimensions: 5.31" x 1.57" (135mm x 40mm)
Hole Diameter: 0.47" (12mm)
Material: Two NdFeB Magnets + A3 Steel Casing + Two 304 Stainless Steel Eyebolts
Coating: NiCuNi
Pulling Force: 3600 lbs (combined)
Weight: 10.0 lbs
Do not stick to gunsafe!!!!
Holy hell!!! Stuck to a gun safe and nearly had to get creative to remove! Amazing strength, love it! Can't wait to see what all i find!
Best magnet ever
Best magnet ever, I love it, my granchildren love it and they are hooked on magnet fishing thanks to yal.
awesome magnets
They have some amazing pulling force, we have found several items so far and will be uploading videos soon on YouTube. will definitely be doing business again.